EUROPEAN CLUSTER CONFERENCE SEPTEMBER 26-27, PRAGUE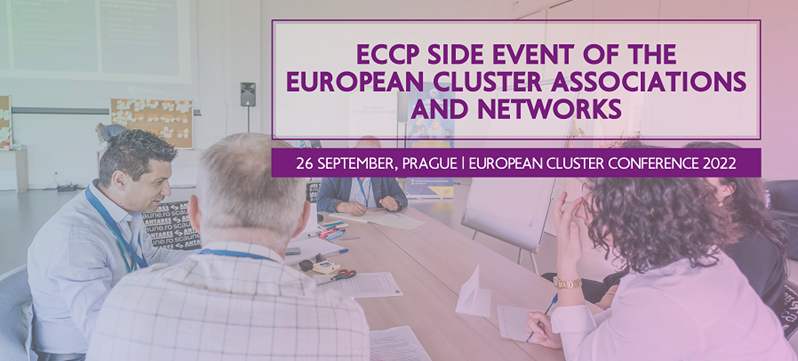 On 26 and 27 September 2022, the European Commission and the Czech Ministry for Industry and Trade under the Czech Presidency of the Council of the EU – with the support of the European Cluster Collaboration Platform (ECCP) - are organising the "European Cluster Conference 2022" in Prague (CZ).
The conference will take place at the O2 Universum, Českomoravská 2345/17, Prague 9. 

More than 70 representatives, mainly from European cluster networks and associations, as well as other consortia, will gather at this meeting.

Full PROGRAMME
Conference participants will have the opportunity to vote for the "European Cluster Manager of the Year" and "European Cluster Partnership of the Year" awards. Voting will initially take place online from 14 September to 22 September, when videos of the nominees highlighting their achievements will be available on the European Cluster Conference Digital Hub. Afterwards, conference participants will also have the opportunity to vote on-site. The event will culminate in a ceremony to announce the winners of the two awards.

List of nominees (detailed here)

European Cluster Manager of the Year
- Kristina Sermuksnyte-Alesiuniene, Agrifood Cluster Lithuania
- Veronica Elena Bocci, DITECFER Cluster
- Xavier Amores Bravo, Catalan Water Partnership Cluster
European Cluster Partnership of the Year
- S3FOOD - Digital innovation in the agri-food industry
- REMOBILISE - Regrouping mobility clusters to develop skills and exchange experiences
- PIMAP+ - Photonics for Advanced Manufacturing Plus

Come and get inspired and share your experiences with others!
There will also be several Site Visits during the conference to which our members invite you. Take a look at their invitations:
Participation is free of charge, but registration is required HERE.
For any further questions you may have on the ECCP European Cluster Associations and Networks side event, and if you would like to express your willingness to participate in the agenda, please do not hesitate to contact us: contact@clustercollaboration.eu
PRESS RELEASE
| | |
| --- | --- |
| | Created: 16/09/2022 12:47:01 |