Last chance to apply for AMULET!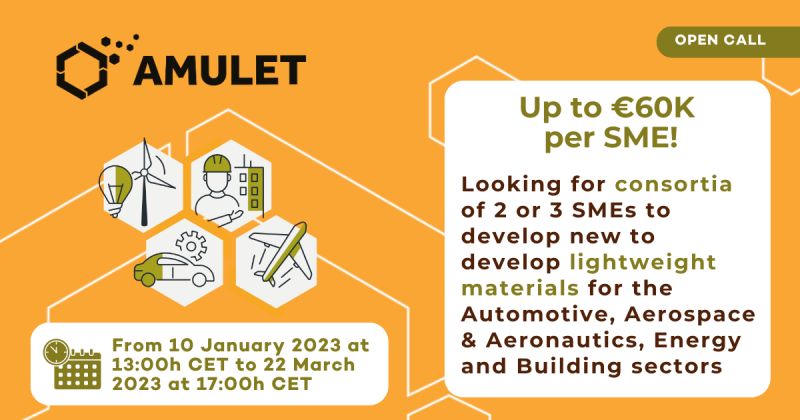 Looking for SMEs to develop lightweight materials for the Automotive, Aerospace & Aeronautics, Energy and Building sectors
Receive
up to €120,000
 (up to €60,000 per one SME) 
What is AMULET? 
AMULET, Advanced Material and Manufacturing Technologies United for Lightweight is an EU funded H2020 innovation project around new industrial value chains.
What is the goal? 
Contribute to CO2 emissions reduction and resource efficiency in EU by boosting the role of SMEs.
When is the deadline? 
22nd of March 2023, at 17:00 CET. 
Who can apply? 
A micro-consortium of a minimum 2 and maximum 3 legal entities, including exclusively SMEs. 
To do what?
The proposed activities should address the development and implementation of demonstration activities around technology and system applicable to exactly one of the Open Challenges publicly announced with this Open Call coming from one of the three types of lightweight materials (polymer-based composites, ceramic matrix composites and light metal alloys) for four sectors: automotive, aerospace & aeronautics, energy and building.
What kind of materials?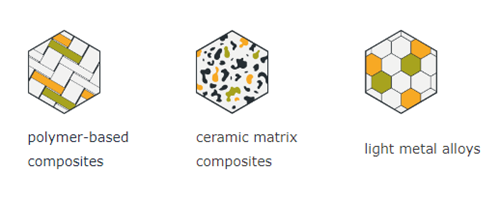 What kind of sectors? 

What are the benefits? 
Self-sustainable

 

business framework

 and new 

market opportunities
Funding support

 to up to 26 projects in the Feasibility Study Stage

Funding support

 to up to 7 projects in the Demonstration and Follow up Stage

Continuous support in technical and business topics through educational materials
How does it work?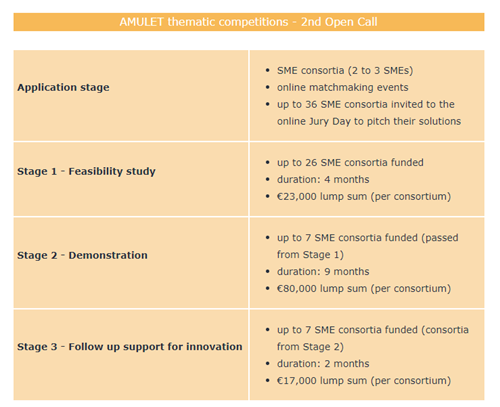 How to apply? 
Read the official Guide for Applicants and make sure you have all the details regarding the applications and evaluation.