ECCP SIDE EVENT of the European Cluster Associations and Networks" that will be held on 26 September 2022 in Prague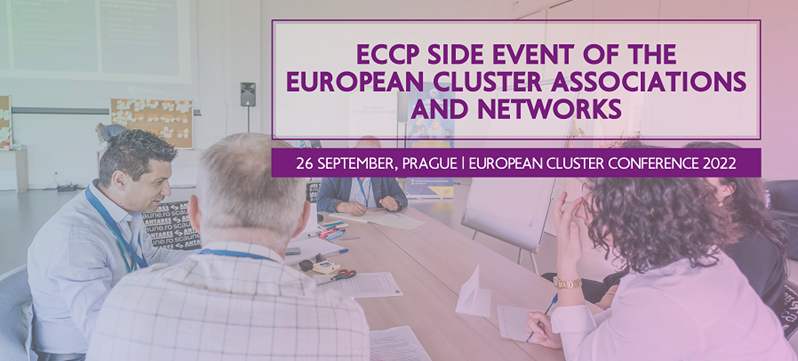 On 26 and 27 September 2022, the European Commission and the Czech Ministry for Industry and Trade under the Czech Presidency of the Council of the EU – with the support of the European Cluster Collaboration Platform (ECCP) - are organising the "European Cluster Conference 2022" in Prague (CZ).
Alongside the main conference, a matchmaking event, the Awards for the "European Cluster Manager of the Year" and the "European Cluster Partnership of the Year", and side events will take place.


This meeting will gather 70+ representatives, mainly from the European cluster networks and associations, as well as other consortia.

The agenda will start with a pitching session – short presentations from the representatives of associations and other types of consortia - focused on the most interesting services they offer to their members and examples of international cooperation.

After that, participants will split into three parallel discussion groups. Participants can choose one of the following topics:

1. How cluster networks could better cooperate to effectively implement the objectives of the EU industrial strategy

2. How to coordinate the organisational effort of clusters associated with national organisations and those gathered in the sectoral consortia and

3. How to make the ECCP a better tool for communication between clusters.

The discussion will be followed by a debriefing and open dialogue.

Please find here the draft agenda.


Please note this is subject to change.

Come to get inspired and share your experience with others!

Participation in the event is free of charge but registration is required HERE.
Finally, don't forget to also register for the European Cluster Conference (main event)! You can do so and find all relevant information HERE.

For any other questions you may have on the ECCP side event of the European Cluster Associations & Networks, as well as to address your willingness to participate in the agenda, please do not hesitate to contact us: contact@clustercollaboration.eu